SAToolz Satellite Finder/Locator iPhone App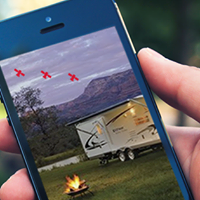 SAToolz is an iPhone app that allows you to quickly determine if any obstacles like trees or buildings are in the way before you attempt to setup you DIRECTV, Dish Network, Exede, HughesNet, Dish TV or Optus satellite dish.
Using SAToolz is easy, simply point your phone towards the sky, you will see the satellites in the sky along with live video. In seconds you can easily and accurately see if there are any obstacles in the way like trees, building, hills, etc...
Use this app when camping, RV'ing, tailgating or at home. Use it anytime you need to know if those tree's, buildings or any type of obstacle might be in the way.
Find SAToolz in the Apple App Store